Saturday, 7 March 2009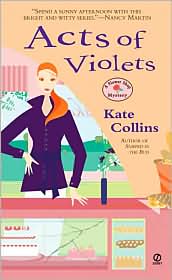 It has been a few months since Abby Knight started dating Marco the ex-cop, bartender and totally yummy guy. However things are going very slowly and the guy still has alot of mystery surrounding him. So when he ends up in trouble Abby knows she has to help him but she of course has her doubts.
A simple flower shop owner, Abby, is also good at solving mysteries. This isn't the first time she has stuck her nose in where she wasn't supposed to but this time she seems to everyones blessing. Doing what she does best she follows the clues and tries to save Marco before he ends up in court on a murder charge.
This is the fifth book in the Flower Shop mysteries and I am still enjoying this cozy mystery series. Simple but interesting this is really a series you can get your teeth stuck into because it is just enjoyable. With a cast of super characters and always a good plot this really is a great example of the genre.
I am really looking forward to reading the next book in the series and can't wait to see how Abby and Marco's relationship continues as well as reading about what Abby gets involved with next time. Worth checking out if you like to read something a little lighter, fun and mystery filled.
Labels: Books Read
posted by Unknown at Saturday, March 07, 2009 |